Located in the Australian state of Victoria, Melbourne is the second most populous city in the country and is considered by many to be the cultural capital of Australia. With a vibrant night life; a wide range of eclectic restaurants, boutique shops, and bars; and popular events such as the Spring Racing Carnival, Australian Grand Prix and home of the MCG, Melbourne is the perfect destination of choice for anyone that wants to discover the modern culture Australia has to offer.
Things To Do In Melbourne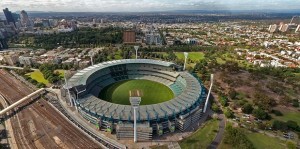 Whether you want to explore the iconic laneways of Melbourne, see world famous sporting venues, or soak up the local art and culture you can get your fix in Melbourne. Visiting Melbourne during Australia's fall season (March to May) gives you the perfect mix of events and good weather to set the pace for any activity you plan on doing. Here are a few popular things to do in Melbourne:
• Watch the Melbourne Grand Prix in the middle of March to feel the exhilarating thrill of Formula 1 racing.
• Visit the famous rooftop bars of Melbourne and enjoy a beer above the city.
• Eat at the some of the best restaurants Australia has to offer. From stunning tapas to Greek fare and local favorites, Melbourne is known for its wide mix of delicious food.
• Take a day to hire a car in Melbourne and go on a day trip to wineries surrounding the city.
• Visit the Melbourne Zoo, the oldest zoo in the country.
• Shop for unique items from the thousands of boutique shops in the heart of the city.
Car Hire Melbourne
To get around the city with a car hire Melbourne tourists should consider using Car Hire Nation. Offering the best prices from world leader's in car rentals (such as Avis and Hertz) Car Hire Nation is the easy choice when you need to hire a car. Choose your type of vehicle and book your dates today.