Vacation is a refreshing way to get away from the hustles of everyday life. With more pressure at work and limited time to plan a long vacation, weekend getaways are a perfect way to spend quality time with family or take time off alone. In order to get the most of your short vacation and have as much fun over the weekend, you need to plan ahead.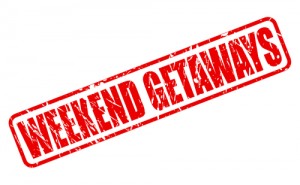 Depending on your location, you'll be stunned at the number of astounding weekend getaways that are practically close to you. If you stay in the city, you can decide on taking a short road trip into the country and experience a variety of cultural and unforgettable experiences for yourself. For those in the rural areas, you can take a short drive into the city to enjoy several lovely activities such as visiting museums, splashing waters at the beaches, dancing away the evening in one of the best nightclubs in town or enjoy a luxurious hotel stay. Here are some of the best ways to plan a remarkable weekend getaways.
Go camping
If you are planning a family vacation, romantic break with your partner or just you alone, one of the best ways to enjoy the outdoors and feel nature at is best is camping. Basic camping equipment is cheap and affordable, and there's nothing as memorable as cooking delectable meal over the campfire.
Rent a cottage
There are lots of cottages available for rent in various destinations. Some of these cottages are located in scenic locales, offering a nice, comfortable place to spend the night while allowing you the opportunity to explore new places.
Go all-inclusive
Regardless of your location, luxury hotel accommodations are a perfect way to enjoy your weekend vacation. You don't have to worry about anything because your needs are well attended to. All-inclusive resorts offers you the chance to get the rest you deserve.
Find the Best Travel Deals
You may be excited about your trip but it doesn't mean booking the first flight or hotel deal you come across. Do a little research work and find the best deals. By so doing, you spend less and have extra cash to spend for your weekend vacation. Take more than enough time to compare travel deals and save hundreds of dollars for fancy night out or chilling at a poolside.
Explore the beach
Visiting the beach on a weekend getaway is a perfect way to relax, unwind and escape the hustles of life. Enjoy several water sports activities and laze in the sun.
When Planning, do not forget to visit us at Car Hire Nation for great car rental deals!