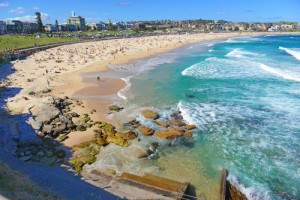 Sydney has something on offer for everyone ranging from sun-soaked beaches and museums to exotic restaurants and incredible monuments. It is a popular destination for lots of international travelers and for good reason. With a mild and friendly climate all year round, Sydney offers a tremendous vacation experience to everyone. There are several must see places in Sydney.
SYDNEY TOWER
Considered the tallest structure in the city, Sydney Tower is located at the corner of Pitt Street and Market Street. Having the same height as the world renowned Eiffel Tower in Paris, Sydney Tower offers stunning views of one of the most amazing cities in the world.
SYDNEY HARBOUR BRIDGE
Well known as one of the most popular landmarks in the city, Sydney Harbour Bridge crosses the Harbour and offers spectacular views of the city and harbour, especially in the early hours of the morning and at sun set. Riding or walking along the bridge offers promises to be remarkable. The western part of the bridge is reserved for cycling and the eastern part for pedestrians. Visitors can climb to the top of the Bridge via the Pylon Lookout or BridgeClimb.
SYDNEY OPERA HOUSE
Located on the city's harbour front, Sydney Opera House is proclaimed a World Heritage site by UNESCO. This world renowned iconic building features impressive architectural works of the 20th century. Renowned for being a world-class performing arts centre, the Sydney Opera House stands as a symbol of both Sydney and Australia as a country.
SYDNEY AQUARIUM
Located at Darling Harbour, the Sydney Aquarium is one of the most visited tourist attractions in Sydney. It also has a reputation of being the largest aquarium on the face of the planet. Exhibits at this lovely sites takes tourists on a roller coaster ride to the rich and diverse waterways and marine ecosystem on the continent. One of the attractions here is the Open Ocean featuring underwater tunnels. A tour of this place allows guests to catch a glimpse of the country's popular marine life at a very close range. Sydney Aquarium is home to the largest collection of sharks.
BONDI BEACH
Bondi Beach is the most visited beach with the closest proximity to the city. Visitors can catch a regular bus  from the city to the beach. Bondi Beach is one of the most beautiful places to visit. It is also a perfect place to relax, unwind and enjoy great water sports activities such as surfing and swimming.
Whenever you are in Sydney, make sure you don't miss any of these top attractions listed above. Don't forget to visit us at Car Hire Nation to book your cheap car rental too!