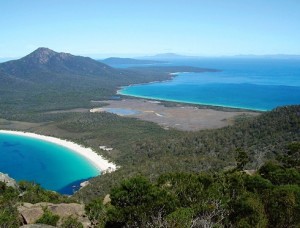 Located on the island of Tasmania, Hobart is the most populated city in the area and buzzes with modern culture and art as well as historic charm and education. You can take a walk through the oldest areas of the city including the Battery Point suburb to get a glimpse of the founding of the city or use the city as a hub to access Tasmania's other islands and national parks. Hobart is also home to the MONA, a popular destination for holiday travelers.
Things to do in Hobart
Hobart is a great time to visit all year long, but making a trip to the city at the end of December not only gives you the chance to experience the holiday season in Australia, it is also the time of year that the Taste of Tasmania festival—a food festival that showcases local and international fare—and has moderate weather as well. Here are a few things you can do in Hobart to explore the modern art and culture of the city and island:
The Museum of Old and New Art (MONA) is the most popular attraction in Hobart. This privately owned museum is home to some of the most stunning artwork in the world. For art enthusiasts there is also the Tasmanian Art Gallery and Museum as well as Salamanca that showcases local artists.
With a car hire Hobart tourists can take a drive to Port Arthur to or Richmond to get a glimpse of Australian history by learning about the convict roots of the country. Take a car ferry with your rental car in Hobart to visit Bruny Island and taste the delicious produce the region has to offer—don't forget to get a taste of artisanal ice cream while you are there!
Kayak to one of the 300 islands off the shores of Tasmania's coastal waters or join one of the boat cruises that offer tours around the area.
Car Hire Hobart
To discover Hobart and Tasmania, consider renting a car in Hobart. Car Hire Nation provides car hire . Hobart visitors can enjoy with low rates from the leading car rental companies. Our simple to use service lets you choose your destination, rental length, and easily find the perfect vehicle for your needs.